Music Production and Audio Recording Services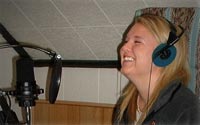 Before you book recording studio time, make sure you know what you'll get for your hard-earned money. Some studios quote hourly rates that only include basic tracking with an engineer. It takes much more than that to produce a high-quality recording!
OK, so do you really need a producer? Check out this article by professional musician James Lee Stanley. It might help you decide: Should I Use a Producer For My First Recording?
For professional-quality recording results, you must either spend enough time learning how to produce the project yourself or spend the extra cash to hire a producer. That's on top of the money you shell out for mixing and mastering. It all adds up very quickly, even at a bargain-basement studio. Many people suffer from sticker-shock over how much time and money it can take to bring an audio recording project to completion.
And most big city professional studios require a significant bankroll or major financial backing.
But you don't need to pay through the nose for your professional-quality, retail-ready project at Studio 415. Paul can offer you professional recording, production, mixing and mastering services, often for what you might pay just for tracking time elsewhere.
With his years of music production experience and his caring attitude, Paul can bring out and capture your best performances without busting your bank account.
Contact Paul today to get your project started!
CD Duplication
Once you've recorded your project, will you need CDs — whether for friends and family or to sell at gigs. Once again, Paul is there to help members of the Studio 415 family every step of the way. Studio 415 is a Studio Partner of DiscMakers, and Paul works regularly with several other label quality duplication houses. He will assist you in selecting the best for your needs and budget.
Paul answers your questions, assists you in completing all the necessary paperwork, and helps ensure your materials are submitted properly for smooth and timely processing.
He can also provide short-run CDR duplication in-house for personal and demo projects, as well as assistance with graphic design for your CD cover, insert and label.
Call, write or e-mail Paul for more information.