Original Music Production, Composition and Arranging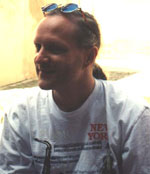 Sometimes you need original music… Something that hasn't been heard before… Something that perfectly coordinates with your dance routine, your cheerleading performance, your martial arts form or your skating competition. Or perhaps it needs to provide the perfect backdrop for your TV or radio commercial, or theme song for your podcast.
Or maybe you've written a song and you need production, arrangement and/or instrumentation to get it just right.
An experienced musician, Paul's been writing and arranging music for decades. In his solo work and in collaboration with other musicians he has worked with diverse styles of rock, blues, funk, pop, bluegrass, jazz, hip-hop, country, classical and rap.
He helps people transform their basic demos into fully arranged and produced compositions.
Paul can help. Talk to him.
Sample Compositions by Paul
Audio clip: Adobe Flash Player (version 9 or above) is required to play this audio clip. Download the latest version here. You also need to have JavaScript enabled in your browser.

Funk Beans
Audio clip: Adobe Flash Player (version 9 or above) is required to play this audio clip. Download the latest version here. You also need to have JavaScript enabled in your browser.

Kung Fu