About Studio 415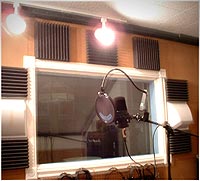 Paul opened Studio 415 in New Jersey in 1995 and named it after his Jersey City home address, where members of his family had resided for nearly a century. In late 1999, Paul and Studio 415 relocated to the Triangle area of North Carolina.
Musicians who record here universally enjoy the comfortable, home style ambiance, and Paul's laid-back, yet highly focused approach to audio recording.
Experienced musicians find that here they can relax and get right to work, while beginners quickly lose their "studio jitters" and enjoy the process of crafting their first CD. Since you spend less time settling in, you can get right down to to the business of recording.
And audio recording is our business! Paul brings the same high-quality workmanship and attention to detail to every project, large or small. At Studio 415, there's no such thing as "just" a demo.
Studio Gear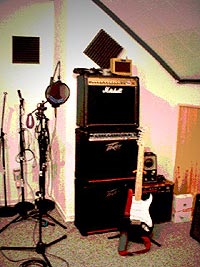 A posh setting and racks upon racks of high-end gear look impressive, but what counts most is the sound of the final product. Without a skilled hand at the helm, the most expensive audio equipment available still won't guarantee you a high quality recording. To get top-notch results, you need an experienced and caring producer who knows how to bring out your best and capture it accurately.
Our specific equipment and software makes and models are constantly updating and changing. Here's a sample of the brand names you'll see in use:
Presonus
ADK
AKG
Alesis
Aphex
Avalon
Cubase
DBX

Lexicon
Mackie
Neumann
Mogami Cable
ProTools
Shure
Sony
Tascam
If you're concerned with getting the best final sound possible and you're looking for that kind of experienced and caring producer, you should talk to Paul today!