The Clayton News-Star
What do two musicians do when each one is more proficient in one area than another? They join forces to form a duo, thanks to a third party.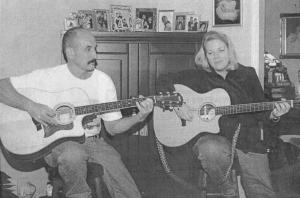 Tim Rodgers, 41, and Mary Alford-Carman, 43, have combined their talents and recorded a debut CD, No Regrets, which was released the first week of October through local producer Paul Barton's Studio 415 label. The 12-song disc, comprised of all original songs, is a confluence of folk-rock and blues-ballads. Their lyrics are often spiritual, funny, and evocative.
Carman, a Raleigh native now living in Clayton who plays piano and guitar and sings, has been around music since she was a young girl. At 4 years old and the youngest of four children, she remembers singing for her friends under a weeping willow tree and "knowing it felt right," she said.
"Everybody sang and danced in our family because music was always there," Carman said. "I have always written and played music, because I found out music was a great stress reliever."
Carman studied music in college and over the years has been subject to a variety of influences ranging from her mother and Broadway tunes to Louis Armstrong, Ella Fitzgerald, James Taylor, Carole King, Tori Amos and Sarah McLaughlan.
Rodgers, who hails from Pittsburgh, Pa., lives near Fuquay-Varina and has been involved in music since high school. He plays guitar and writes, "but I don't sing," he said.
He began playing guitar seriously in 1999, and his background lies in acoustic rock and counts such acts as The Counting Crows, The Eagles, Sister Hazel, Tom Petty and Neil Young among his influences.
The pair has a third party to thank — Rodgers' wife, Marcy — for getting them together.
"She heard me sing once at an open mic night in Fuquay-Varina, and she knew I was not as comfortable playing guitar," Carman said. "Tim plays guitar and doesn't sing, and she thought we'd make a good match. That's where I met Tim."
A week later, Rodgers called Carman.
"He has a great ear for tuning and is very proficient with his guitar and also great at coming up with melodies," she said. "I wasn't as proficient on the guitar, although I am working on that."
Within a few weeks, the duo had written five or six songs together and were starting to perform songs that Carman had written. "Before I met Mary, I was playing cover songs but not singing," Rodgers said. "Mary and I synced right from the beginning."
Look in His Eyes, a song on the new CD, was the first tune Carman and Rodgers penned together.
The two met Barton during an open mic at The Coffee Mill in downtown Clayton in August of last year. Encouraged by Barton and Coffee Mill co-owner Cliff Morgan, the duo played Carman tunes and a couple of covers during a show later that month.
"We knew there was a lot of talent playing there," Carman said. "We really wanted to be a part of that circle."
Carman and Rodgers, who had only been a duo for a month, were stunned but pleasantly surprised by Barton's and Morgan's interest.
A few months later, they recorded basic tracks on Rodgers' digital four-track recorded between December of 2001 and June of 2002.
"We gave the tape to friends to gauge it for quality, and they said it needed to be cleaned up professionally," Rodgers said.
Barton remixed and mastered the tracks over a two-month period.
"He performed magic,"Carman said.
"He has plenty of technical expertise and has a really good ear,"Rodgers added. "Having a third person who is objective is good, because he'll let you know if things are not working."
One example of Barton's expertise came on the song Still, where he added strings to accompany Carman's stellar piano work. "He asked us if he could do it and said he'd take it out if we didn't like it," Carman said. "It added a beautiful flow to the song."
Most of the tunes on No Regrets come from life experiences.
"Songwriting is the cheapest form of therapy because you can write about what goes on around you," Carman said.
Believe is about aspiring to get better every day, while Ash and Tears is about the events surrounding Sept. 11, 2001. "I wrote the melody the night of Sept. 11 watching TV," Rodgers said. "I gave it to Mary two days later, and she had the first verse and chorus that night."
The song was performed for the first time at the 2001 Clayton Harvest Festival.
Other standout songs on the disc include the title track, Poor Baby, Mommy Stay at Home Blues, and Melinda, a haunting tale of spousal abuse as seen through the eyes of the wife's mother.
"Melinda is a powerful song," Carman said. "The first line is 'forgive me father for I have sinned'."
As for the future, Carman and Rodgers have no real expectations but are pleased with their results.
"It's very satisfying to know that you've started something and followed through with it," Carman said. "We hope people will like it and find something they'll connect with."
Rodgers said, "I figured I'd be in a bar singing cover songs. This is all just gravy to me."
Article and photo by Jim Green, Staff Writer