The Clayton News-Star
Local band puts pedal to (heavy) metal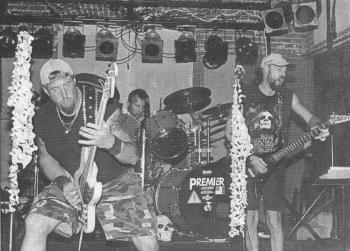 The sounds rumbling from an East Main Street warehouse in downtown Clayton on Thursday and Sunday nights is not an earthquake. It is the sonic force — an assault on the senses — known as Grimstone.
Allen Ladd (rhythm and lead guitars and vocals), Johnny Johnson (drums) and Scott Dolan (bass) make up the trio, which formed in the summer of 2000. They have spent the past several months honing their sound, which is best referred to as uncompromisingly brutal.
"We like to think of ourselves as original heavy metal," says Johnson, who grew up in Smithfield and played with others from Clayton in the late 1970s in a band called Satisfaction.
Ladd, who grew up in Clayton and graduated from CHS in 1985, said, "We are really heavy, but we aren't demonic. Despite our name, we don't want to be pigeonholed as a band along the lines of a Slayer. If you like bands like Pantera, Motorhead, and Godsmack, we hope you'll like us."
Grimstone's roots go back as far as early 1995, when Johnson met Ladd through a mutual friend. They started writing original music and performing covers and had different members for the next few years, but no one seemed to fit.
"We were trying to find a cover song both of us knew," Johnson said in reference to the early days with Ladd. "We started doing 'Cold Gin' by KISS. We didn't have a bass player for a real long time."
Fast forward to the summer of 2000, when Johnson met Dolan, a Long Island native who had moved to the Cleveland community four years before.
"I was doing some work at Scott's house, and I walk in and see these bass guitars and pictures of this guy with long hair playing bass," Johnson said.
Dolan was working at another job site when Johnson played a demo tape over the phone to see if he'd be interested in joining the band. Dolan joined soon thereafter.
The band rehearsed in Dolan's garage and received regular visits from the Johnston County Sheriff's Department.
"We always seemed to be playing 'Ace of Spades' by Motorhead when they came by," Johnson said. "They told us we were good but too loud."
The band covers songs by the likes of Motorhead, KISS ("Parasite"), Pantera ("Demolition"), Black Sabbath ("War Pigs"), Godsmack ("Awake") and Iron Maiden ("Wrathchild"), but writing original material is the trio's main focus.
Ladd draws inspiration for his lyrics from a variety of sources. "Broken Man" is about a bad relationship; "Flying at Night" speaks of a vampire; "Brother" is a Cain-and-Abel type number, and "White Feather" is about Carlos Hatchcock, a United States Marine Corps hero nicknamed by Viet Cong. "Judge Knott" is pretty self-explanatory, Johnson said.
Ladd's voice at times resembles Pantera's Phil Anselmo, but his guitar playing — fluid with his leads and melodic with the rhythm parts — gives Grimstone a sound larger than its three members. The thumping bass of Dolan and the pounding, juggernaut-style drumming of Johnson (who has been influenced by the likes of Rush's Neal Peart and Pantera's Vinnie Paul) round out the group.
The trio's first official show was in the fall of 2000 at what is now known as Tavern on the Grove. "We blew out the power three times," Dolan said, adding that light and sound technician Jeff Hamilton had to use an alternative power source.
The band has played selected shows the past few months — including recent gigs at Jester's in Fayetteville and Ziggy's in Atlantic Beach — and is currently working on perfecting its stage show.
One visit to the band's 3,000-square-foot rehearsal space, decorated with skulls of many types — including one that talks — proves the band is all about putting the pedal to the metal. The stage features an archway designed by Dolan that resembles a cemetery entrance. Hamilton controls the sound and lights to complete the intense musical experience.
The band practices each time out as if it's playing a live show.
"We want to have that live atmosphere every time we play," Ladd said. "It's a high-energy rock and roll show."
Added Johnson: "When people come to see us, they had better hold on to something."
Dolan said Grimstone is "not death metal and not grunge, just good fast rock and roll."
When they have time, two of the band members engage in outside activities in addition to their day jobs.
Dolan is a competition motorcycle enthusiast whose show bike "Grimstone" (named after the band) has won several awards and will be featured on a 2003 national calendar distributed by Yamaha. Johnson is an off-road motorcycle racer of Kawasaki bikes in his spare time.
Yet all three agree that breaking the band is their primary goal. They have been working with Studio 415 producer Paul Barton on a CD which is expected to be released by the middle of November.
"Paul is an excellent musician who is fine-tuning us so we can go to the next level," Johnson said.
Ladd added, "We hope to expand our fan base to a regional and then national level once the CD is released. Paul is working on making us very professional and we value his opinion on all music matters."
Band members agree that their style of music is returning to playlists on local radio stations like WBZB and WKNC Chainsaw Rock and believe they can be successful and eventually sign with a major label.
"Just look at bands like Godsmack," Johnson said. "There is a demand for our style of music."
"We all want this to be our career," Ladd said.
Article and photo by Jim Green, Staff Writer