The Clayton News-Star
A rare combination of youth, seasoned musicianship, talented songwriting and family history makes Clayton rockers Blue Dust Box a band worth watching in the near future.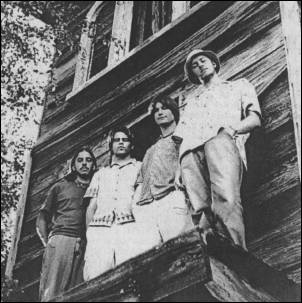 The band — Derek Arnold, Kenny Bledsoe, Mike D'Alessandro, and Dan D'Alessandro — creates a new, yet familiar sound featuring strong vocal harmonies, tasteful guitar riffs and a fundamental love of the music that is evident on their debut CD, Everybody's Fault But Ours, which was released in February on the Studio 415 label.
The CD was completed between September 2001 and January 2002 with Studio 415 producer Paul Barton.
"The first time I ever heard them, they gave me a demo CD. When I put it on, I found that I was playing it a dozen times," Barton said. "I was impressed with the vocal work and saw that I could do a lot with them."
Because the band has the freedom to create within a song's boundaries, each tune on the debut CD is different from the next one, yet still fits in to the BDB sound.
"We really think the phrase 'classic rock for a new generation' really fits us," said Mike D'Alessandro, who plays lead guitar.
Bledsoe said, "To me, it's all just rock and roll."
"What we try to do is take from our idols and add to it to make it our own sound," Arnold said. "We look around and see bands like Creed and Nickelback, and they sound like each other. Bands whose songs sound the same as other bands is just a terrible, vicious circle. Groups like The Beatles, The Rolling Stones, Led Zeppelin, Van Halen, Pearl Jam and Nirvana took from their influences but added their own touches to make it fresh and new."
Opener Entourage is classic rock all rolled up into one song, Barton said. Can't Understand is more a blues-based tune, while Back Door is best described by the band as "Foghat and Black Sabbath having a baby."
There's a ballad, What Would You Do, which features the excellent harmonies of Arnold and Bledsoe. Other notable tracks include Highway Meets The Sky, Heartache Bandit, and Trying to Make the World Go Round.
"We are really happy with the results," Dan D'Alessandro said. "He (Barton) was easy to work with, and he was hard on us when he needed to be."
Given the members' backgrounds and diverse tastes, it is easy to see why the band's music is capable of bringing several generations of rock music fans together.
Arnold, 19, who plays drums and keyboards, writes and sings, has learned personally from such greats as Mitch Mitchell (Jimi Hendrix Experience) and Kenny Soule (Nantucket, PKM and Dag). Arnold's father, Harvey Dalton Arnold, played bass for the legendary Outlaws. The younger Arnold counts his father, Paul McCartney, and Led Zeppelin as major influences.
"Music's like breathing to me. I've been doing it since I was 5 years old," Arnold said. "I learned a lot from my father. Not so much that a C chord fits with an E, but what to do and what not to do as far as business experience goes. I've been very lucky because I've been able to take from his life experiences.
"As far as songwriting goes, McCartney and Willie Nelson are influences, and Led Zeppelin is a huge one for me. I would like to strive to be like them, and even though we won't get there, it's a nice position to look up to."
Bledsoe, 18, who also comes from a musical family (father Dan is a talented guitarist and his aunt is an accomplished violinist) and is influenced by such greats as The Beatles, Led Zeppelin and Pink Floyd, plays guitar with a style reminiscent of blues, R&B and the best of the classic rockers. His musical talents have garnered him the prestigious Louis Armstrong Jazz Award, and his songwriting contributes heavily to the band's sound.
Mike D'Alessandro, 19, has a solid solo on Bandit. Influenced by bands like Bush and The Smashing Pumpkins, his guitar work tends to add a definitive edge to the songs.
Dan D'Alessandro, 17, whose background lies in jazz and is influenced by groups like The Grateful Dead, Hendrix, and other psychadelic rock, thunders out the bass that holds the BDB sound together.
"Suggest a standard bass riff to Dan, and you might as well forget it," Barton said, smiling.
The brothers D'Alessandro and Arnold first got together four years ago in a band with Gary Russell, music teacher at Clayton Middle School. The group also included Joey Eatman on guitar and Brandy Biggs on vocals.
The D'Alessandro brothers moved to Connecticut in 1999 but returned a year later. The first incarnation of Blue Dust Box included Arnold, Bledsoe, Travis Holtzhauser on guitar and several bassists who ultimately didn't work out.
In September 2000, when the D'Alessandro brothers returned, they jammed with the band. "We had two weeks to learn something like 40 to 50 songs for a show they were doing at McKinley's," Mike D'Alessandro said. "We did it."
Holtzhauser quit the band in the summer of 2001 to pursue solo interests. The band decided to stay a four-piece. Their first show as a quartet was at Jillian's in Raleigh. "The manager was impressed," Bledsoe said. The small billboard from that gig is on the wall of the Bledsoe attic, which serves as the band's rehearsal space.
Since then, the band has played at Sam's Tavern in the Cleveland area, Oasis in Dunn and The Coffee Mill and McKinley's here. They most recently played Generations 2002 at Clayton High School and have a show scheduled at The Lincoln Theatre in Raleigh on June 23.
The live Blue Dust Box experience is something that's hard to define. They are serious about their music, but the shows are not without some comedic relief. In addition to their own songs, fans can expect to hear classic tunes by Led Zeppelin, Aerosmith and Pink Floyd, among others.
"If you come to one of our shows, you never know what to expect," Bledsoe said. "We are a goofy bunch of guys playing our instruments. We try not to put ourselves onto a pedistal, but we do take our music seriously."
As far as the future, Bledsoe hopes the group will be part of the next wave of successful rock artists.
"There is a lot of stuff going on right now," he said. "But there isn't one big 'thing' that stands out. There is a big void. Hopefully, we will be 'the thing'."
Article by Jim Green