The Clayton News-Star
Self-styled guitarist celebrates with performance at Coffee Mill
When people ask Keith Hoeppner to describe the music he plays, the transplanted North Carolinian responds, "I don't know. New Age? Folk? Country/Jazz fusion? I just play it and don't analyze it, and I hope you enjoy listening to it as much as I enjoy creating and playing it."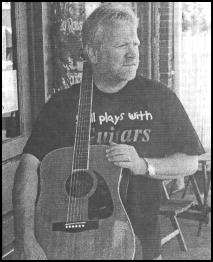 Judging by the response to his debut CD, Splittin' Hairs, and audience approval at Friday's performance at The Coffee Mill, Hoeppner may indeed be on his way to developing his passionate hobby into a second career.
Hoeppner's CD, which was released in late December of 2001, completes a whirlwind year for the Garner resident. "Everything that has happened with my music has happened since last January," he said. "I play because I enjoy it."
The CD was recorded with producer Paul Barton at Barton's studio in Clayton, Studio 415, over a three-month period. Barton saw Hoeppner at one of the Mill's open mic nights and expressed interest in working with him.
"I enjoyed Keith's music the very fist time I heard it and thought, 'I'd really like to work on recording this with him'" Barton said. "And he's one heck of a nice guy besides."
Hoeppner found the studio experience rewarding, complimenting Barton on his techniques. In addition to mixing the record, Barton played percussion, bass, and keyboards.
"I would tell him the feeling I was trying to convey, and Paul pulled it all together," Hoeppner said. "I call him the Wizard, because he really knows what he's doing behind the board. He's very focused and meticulous, and we didn't play around. Still, it was fun."
All of the songs on Hoeppner's CD are original instrumentals, and many of them have stories behind them. Take Megan, which is about Hoeppner's 17-year-old daughter. "She's 17 going on 25," he says, laughing.
Port Liggett is about a dream Hoeppner had. "I was walking along the Mediterranean with Salvador Dali," he said. "I believe he mentions Port Liggett. There are some surreal sounds on that one."
The title song comes from his job. Hoeppner is a prototype machine designer for a pharmaceutical company. "I kinda look on what I do as splitting hairs," he said.
And then there is the closer, The Coffee Mill (Ode To The Bean), named after the coffee shop on South Lombard Street in Clayton where Hoeppner got his start.
"That is one of the first open-tuning songs I started to play," he said. "I played it here several times without having a name for it, and Paul suggested to me that I had to name my songs."
Hoeppner has never had formal guitar lessons, but has been surrounded by music his whole life. Born in Gary, Indiana in the 1950s, his parents gave him a Sing Along with Mitch Miller record. He learned the accordion well enough to win second place at the State Fair in an era when FM radio was pretty much non-existent.
Hoeppner moved to Garner and nine years later married Teresa, his high school sweetheart.
"She bought me my first guitar," he said.
Friends Doug Warren and Hal Lilley helped Hoeppner cultivate his burgeoning talent. The first time Hoeppner ever played publicly was January 26, 2001, at The Coffee Mill. From there, in addition to his solo stylings, Hoeppner started work on two other side projects: as a duo with Wendy Turner of Garner, who sings ("We play every Tuesday in Garner at the Texas Steak House") and as part of The Allmost Brothers Band with good friend Lilley. ("That's the first band I ever joined, and that was back in February.")
When the CD was finished, Hoeppner said The Mill was a perfect place to celebrate it's release.
"I couldn't think of a better place to end this year than here," he said.
In addition to the seven songs on the CD, Hoeppner was joined for a few tunes by Turner. Among some of the other noteworthy songs played were From the Beginning by Emerson, Lake, and Palmer; Helplessly Hoping by Stephen Stills; Angel From Montgomery by John Prine; and Hoeppner compositions No Change Me Now/Soar and Love Always.
Article and Photo by Jim Green